Box Type Non-woven Bag Machine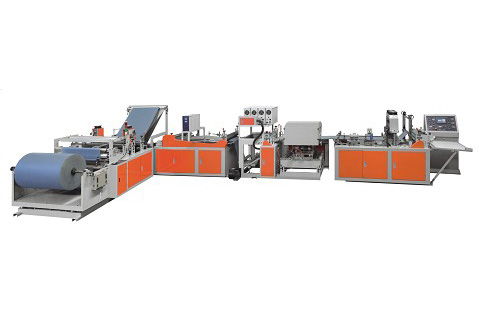 Details
Technical Parameter
Model

500mm

600mm

700mm

Speed (pcs/min)

20-60

20-60

20-60

Width

30-70

30-70

30-70

Bag Height (cm)

25-44

25-54

25-64

Side-folding Size (cm)

4-7

4-7

4-7

Bag thickness(g)

30-80

30-80

30-80

Voltage (v)

380/220

380/220

380/220

Weight(kg)

3000

3100

3200

Total Power(kw)

8

8.5

9

Machine Sizes(m)

L-Shape

Straight Line

7.5*3.8*1.6

9.9*1.8*1.9

7.5*3.8*1.7

10*2.0*1.9

7.5*3.8*1.8

10.2*2.2*1.9
Features
1.
This machine is specially designed for nonwoven bag,the machine takes nonwoven as raw material.
2.
It can produce nonwoven bags of various sizes and shapes,such as nonwoven shopping bags,reticules,flat port bags,clothing bags,shoes bags,vest bags and other products packaging bags.
3.
This machine is electro-mecanical integrative,once-through fully automatic forming,touch screen operation is applied,photo-electric trace,computerized deviation rectifying function,hence accuracy and smooth.
4.
Such automatic devices as slotting device,punching device and metering device are equipped.Finished products are produced at fast speed,in high efficiency,and in firm appearance after welding.
5.
This machinery is an optical choice for the nonwoven bag making enterprise and buinessmen devoted to the production of nonwoven enviroment-friendly bags.